Constructions:


Ventilators AF-N SS (Non shutter)
Impeller 50 inc.
Stainless Steel.
Specifications
Drive : Belt Drive.
Motor : 1.1 kw. (4 pole)
Impeller size : 50 inc.

Air volumeh

:

34,500-40,850

m3/h.
Phase : 1 or 3 phase.
Structure
Fan Housing :

Stainless steel.

​Front Plate :

Stainless steel.

Impeller : Material is stainless steel.
Impeller : Six-Bladed impeller ensure high air volume.
Net guard : Standard protection net.
Screw Fixing : It is possible to tension periodically the V-belt by fixing screw.
Pulley : Aluminium pulley with bearing inside connect directly to fan hub.
Motor : 1 or 3 phase motor in aluminium housing, All motor are in IP55 and INS Class F with low power consumption.
Wire : 50 cm.
Brand : Eurovent
> Manufactured in factories that have been certified for quality management standards according to ISO 9001: 2015.
> Classified as the highest standard industrial fan in Thailand, because the EuroVent motor uses a running condenser motor system to make the motor Consume less power Help save energy And long service life.
> Continuous research and development makes the farm fan ventilate Eurovent with a high volume of air but quiet.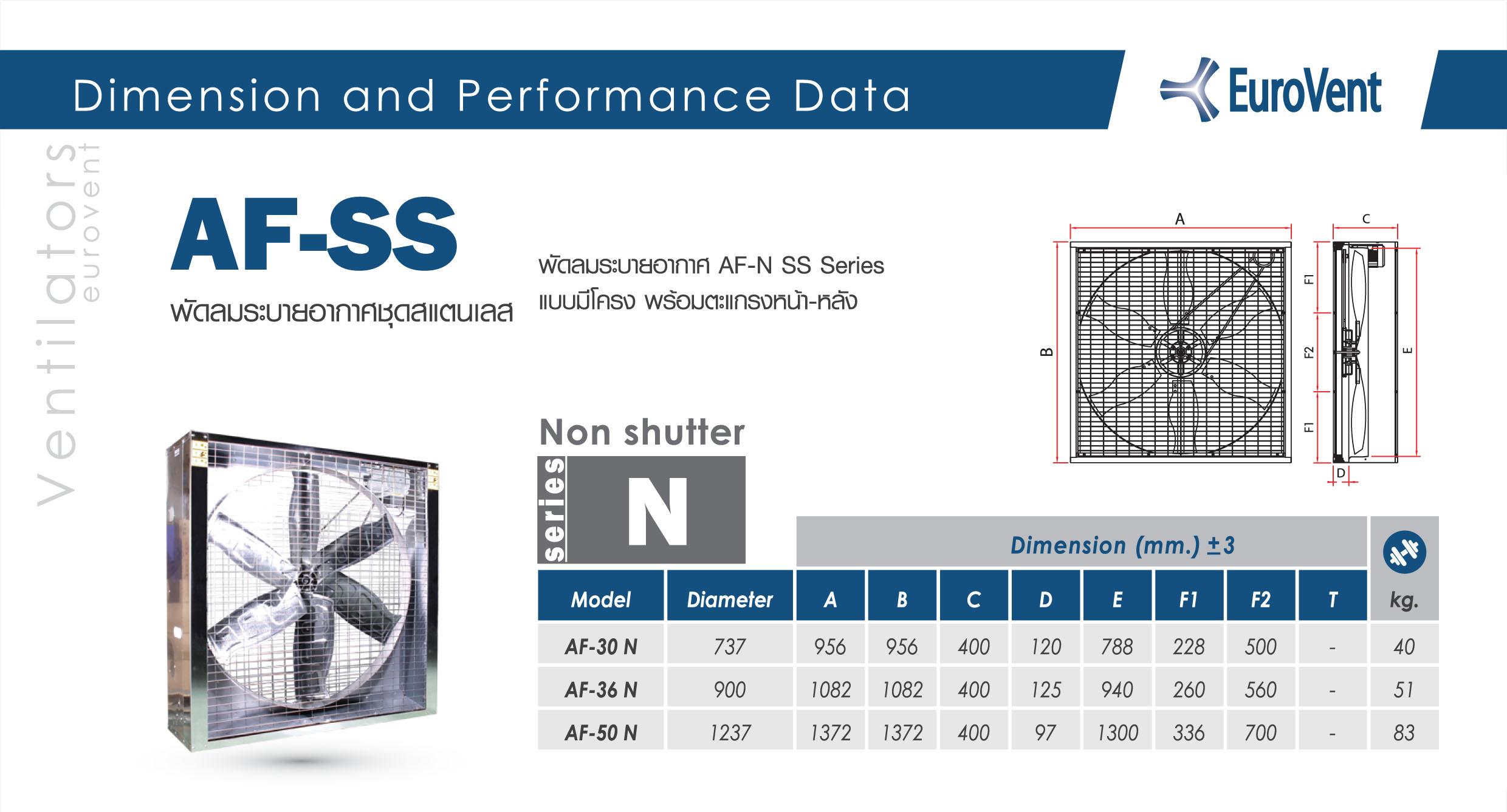 N 50 inc.

Item

Model
Phase
kw.
Fan
Housing
Impeller
1.
AF-50 N1SS
1
1.1
Stainless
steel
Stainless
steel
2.
AF-50 N3SS
3
1.1
Stainless
steel
Stainless
steel